National Security and Innovation Conference 2023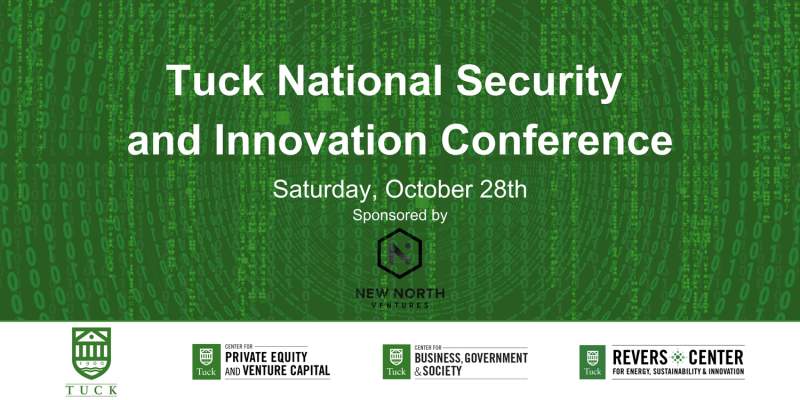 Conference Overview
The Tuck National Security and Innovation Conference sponsored by New North Ventures is an in-person, one-day conference hosted on Saturday, October 28th, 2023 by the Tuck School of Business with support from Dartmouth College. The conference focuses on the trifecta of early-stage venture capital, government innovation, and academia, specifically exploring areas relevant to national security, such as cybersecurity, energy, defense, and space. Conference participants will attend breakout sessions throughout the morning that explore a variety of topics at the intersection of national security and innovation. The afternoon sessions will include small group discussions on topics, such as government procurement, and a startup demo day. The goal of the Tuck National Security and Innovation Conference is to create a space for early-stage start-ups, venture capitalists, academics, and government officials to meet, exchange ideas, and explore the ways in which government, academia, and early-stage venture can support and strengthen the national security mission.
Ticketing
Dartmouth and Tuck students, faculty, and staff: Free
Non-Tuck/Non-Dartmouth students: Free
Industry (including government and academia) / Public: $50
Agenda
Speakers and panelists will represent industry and government, including investors from funds, such as New North Ventures, Alumni Ventures, and RA Capital, and agencies, such as CISA and DHS.
9:00–9:30 a.m.
Morning Keynote
9:45–10:45 a.m.
Breakout Session 1
Government as an incubator: Exploring the ways in which government can drive innovation internally

Nick Reese, Co-Founder and Managing Partner at Frontier Foundry; Former Director for Emerging Technology Policy at the Department of Homeland Security
TBA

Why the public sector is emerging as an attractive end market

Nate Ashton, Executive Director at The Alliance for Commercial Technology in Government
Tyler Sweatt, CEO at Second Front
TBA

Through the worm hole: How the IC/DoD have tried to scout, integrate, and deploy emerging tech over the past 25 years ... and what they're doing differently today

Jeremy Hitchcock, Co-Founder at New North Ventures
Trevor Hough, Principal Owner at The ADK Group
Thomas Hendrix, Managing Partner at Decisive Point
Adam Caruso, Tech Scout at US Special Operations Command (SOCOM)
11:00–11:45 a.m.
Breakout Session 2
Cybersecurity Tabletop Exercise
From the lab to market: the relationship between academia, government, and venture capital
Fueling our future: Exploring innovation and challenges in energy security and resiliency

Pete Mathias, Partner at Alumni Ventures
Kyle Teamey, Managing Partner at RA Capital Management
12:30–1:30 p.m.
Afternoon Keynote Speaker
Mike Pyle, Deputy National Security Advisor for International Economics
2:00–2:30 p.m.
Small Group Discussions
3:00–4:00 p.m.
Demo Day for Startups
Sponsors

Why Dartmouth: A History of National Security and Innovation
Dartmouth College has a storied place in the national security and innovation ecosystem. In 1956, a small group of scientists gathered at Dartmouth College for the Dartmouth Summer Research Project on Artificial Intelligence, which led to the birth of artificial intelligence research. Since that moment almost 70 years ago, Dartmouth has established its place as a leader in the national security and innovation space. Dartmouth is home to The John Sloan Dickey Center for International Understanding, which houses the Initiative for Global Security at the Dickey Center, and the Institute for Security Technology Studies (ISTS). The Initiative for Global Security advances Dartmouth's contributions to international security through research. ISTS is one of the leading centers for security research and development. ISTS is a member of and administers the Institute for Information Infrastructure Protection (I3P), a consortium of 24 leading academic institutions, non-profits and federal laboratories that brings industry, academia and government together to articulate and focus on problems that need to be solved to help ensure the nation's information infrastructure is safe, secure, and robust.
Dartmouth and the Tuck School of Business have produced notable alumni in the national security space, Ambassador at Large for Cyberspace and Digital Policy Nathaniel C. Fick, former Deputy Secretary of Defense William Lynn III, US Senator Tina Smith, and Deputy National Security Advisor for International Economics Mike Pyle, among many others. Dartmouth and Tuck are incredibly excited to continue growing the relationship between Dartmouth and the Tuck School of Business and the national security apparatus.